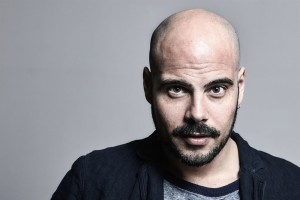 MARCO D'AMORE
ospite al lff il giorno 5 agosto 2018
Talk (aperto a tutti) e MasterClass (riservata)
Casertano, classe 1981. Da giovane sognava di diventare un musicista, ma la passione per la recitazione ha prevalso grazie anche all'influenza del nonno che ha recitato in diversi film di Nanni Loy e Francesco Rosi. La sua carriera inizia nel 2000, quando entra nel cast di "Le avventure di Pinocchio", spettacolo teatrale prodotto dalla compagnia Teatri Uniti di Toni Servillo, diretto da Andrea Renzi. Nel 2005 si diploma alla Scuola d'Arte Drammatica Paolo Grassi di Milano e continua a collaborare con Toni Servillo e con la compagnia teatrale "Le belle bandiere" dove, oltre a far parte del cast di due spettacoli, partecipa attivamente alla organizzazione e alla direzione di laboratori, seminari e performance  tenuti dalla compagnia stessa. Nel 2007, insieme allo sceneggiatore Francesco Ghiaccio, fonda la compagnia di produzione teatrale e cinematografica "La piccola società" con la quale ha prodotto, diretto e interpretato quattro spettacoli teatrali ("Solita formula", "Il figlio di Amleto", "L'albero" e "L'acquario") e due cortometraggi ("Gabiano con una sola B" e "Voci bianche"), entrambi in concorso al Festival del Cinema di Torino nel 2007 e 2012. Dal 2007 è tra gli interpreti de "La trilogia della villeggiatura" fortunatissimo spettacolo diretto da Toni Servillo. Il suo debutto cinematografico arriva nel 2010, ancora al fianco di Toni Servillo di cui è co-protagonista nel film "Una vita tranquilla" diretto da Claudio Cupellini.  Nell'estate del 2011 è nel cast del film "Love is all you need" diretto dalla regista -Premio Oscar- Susanne Bier. Sempre nel 2011 debutta in TV nella fiction "Benvenuti a tavola – Nord vs Sud" con la quale arriva la notorietà.  Ma è nel 2013 che arriva il grande successo grazie alla Serie TV "Gomorra", diretta da Stefano Sollima, Claudio Cupellini, Francesca Comencini. Nel 2014 produce il film "Un posto sicuro" sui disastri dell'eternit ed è nel cast del film "Perez" al fianco di Luca Zingaretti e in "Alaska" con Elio Germano. Nel 2016 dirige ed interpreta il dramma "American Buffalo" di David Mamet e nel 2017 diventa uno dei protagonisti della commedia nera e spregiudicata "Brutti e Cattivi". Nel 2018 debutta come regista dirigendo, assieme a Francesca Comencini e Claudio Cupellini, la quarta stagione della serie "Gomorra". Due gli appuntamenti in programma al Lucania Film Festival con Marco D'Amore: Cine Talk (aperto a tutti) e Master Class.
Born in Caserta in 1981. When he was young he dreamed of becoming a musician, but the passion for acting prevailed also thanks to the influence of his grandfather who acted in several Nanni Loy and Francesco Rosi's films. His career started in 2000, when he joined the cast of "Le avventure di Pinocchio" (The adventures of Pinocchio), a play produced by Toni Servillo's Teatri Uniti theatre company and directed by Andrea Renzi. In 2005 he graduated at the Scuola d'Arte Drammatica Paolo Grassi in Milan and continued to work both with Toni Servillo and Le belle bandiere theatre company where he, apart from being a cast member of two theatrical performances, had also an active role in organising and directing its workshops, courses and performances. In 2007, together with the scriptwriter Francesco Ghiaccio, he founded the theatre and film company La piccola società with which he produced, directed and played four shows ("Solita formula" [Usual Formula], "Il figlio di Amleto" [Hamlet's Son], "L'albero" [The Tree] and "L'acquario" [The Aquarium]) and two short films ("Gabiano con una sola B" [Seagul with one L] and "Voci bianche" [Treble Voices]), the two last ones were both in competition at Torino Film Festival, respectively in 2007 and 2012. In 2007 he played "La trilogia della villeggiatura" (The Holiday Trilogy), a very successful show directed by Toni Servillo. He made his first cinema appearance in 2010, one more time alongside Toni Servillo as a costar, in "A Quiet Life", directed by Claudio Cupellini. In summer 2011 he was a cast member of Academy Award-winning director Susanne Bier's "Love Is All You Need". In the same year he made his tv first appearance in the serial "Benvenuti a tavola – Nord vs. Sud" (Welcome to Our Table – North vs. South) thanks to which he became famous. But only in 2013, with "Gomorrah" tv series directed by Stefano Sollima, Claudio Cupellini, Francesca Comencini, that he became very popular. In 2014 he produced "Un posto sicuro" (A Safe Place) about the damages caused by asbestos and acted in "Perez" alongside Luca Zingaretti and in "Alaska" with Elio Germano. In 2016 he directed and played the drama David Mamet's "American Buffalo" and in 2017 he starred in "Brutti e Cattivi" (Ugly Nasty People), a black and unscrupulous comedy. In 2018 he began his career as a director of some episodes in "Gomorrah" tv series (the fourth season also directed by Francesca Comencini and Claudio Cupellini). Two planned events at Lucania Film Festival with Marco D'Amore: Lectio Magistralis and Master Class.