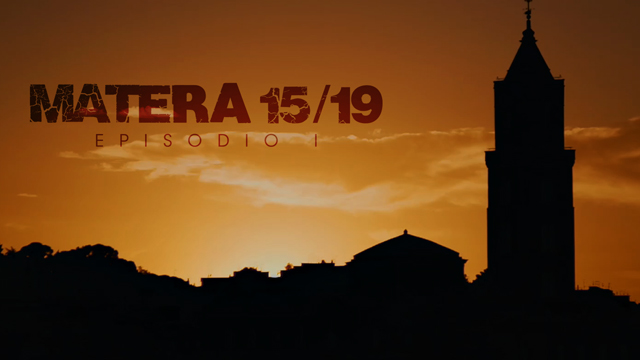 MATERA
Italy – 2017 – 52'
Regia / Director: Fabrizio Nucci, Nicola Rovito, Alessandro Nucci
Montaggio / Editing: Giorgia Panzardi, Fabrizio Nucci
Fotografia / Cinematography: Alessandro Nucci
Produzione / Production: Studio Open Fields Productions
Co-produzione / Co-production: Aria Film
Sinossi / Synopsis
Matera Capitale europea della Cultura 2019 costituisce un'indiscutibile possibilità di rilancio dei territori lucani, ed è solo l'ultimo tra i risultati ottenuti negli anni recenti grazie ad importanti interventi volti a restituire dignità a quei luoghi. Il lavoro, le opinioni, le speranze, i rimpianti, le delusioni e le soddisfazioni dei lucani – nei prossimi quattro anni – non possono essere dimenticati. Bisogna preservare la futura memoria degli sforzi della Basilicata tutta, regione simbolo di cultura e faro di speranza per un Mezzogiorno in cerca di riscatto.
Matera European Capital of Culture 2019 represents an incredible chance of raising for the territories of Basilicata, and it's just the latest result achieved in the last years, thanks to important actions made to give back dignity to those places. The work, opinions, hopes, regrets, disappointments, and satisfactions of Lucanian people – in the next four years – can't be forgotten. We need to preserve the memory of Basilicata's efforts, a region symbol of culture and hope for a Southern Italy looking for redemption.
FABRIZIO NUCCI, NICOLA ROVITO, ALESSANDRO NUCCI 
Biografia / Biography:

Autori e registi del documentario "Matera 15/19: Episodio I" sono Fabrizio Nucci, Nicola Rovito e Alessandro Nucci. I primi due, fondatori dell'Open Fields Productions, hanno all'attivo la produzione di cortometraggi, lungometraggi, documentari e videoclip musicali. Dopo aver eseguito, con le primissime produzioni, una costante ricerca stilistica ed acquisito una sempre crescente consapevolezza della tecnica, Nucci e Rovito si cimentano, nell'anno 2013, nella realizzazione del loro primo lungometraggio dal titolo: "Goodbye Mr. President". Il film – prodotto a "budget-zero" grazie alla collaborazione volontaria di attori, compositori e tecnici professionisti – è riuscito, nell'arco del primo anno dal suo completamento, a raggiungere un pubblico di oltre 3500 spettatori, grazie ad un auto-distribuzione in 10 sale cinematografiche tra la Calabria e la Puglia, e ad una successiva diffusione in Dvd. Meno di un anno dopo, il duo autoriale si confronta con la produzione del secondo lungometraggio indipendente dal titolo: "Scale Model – La Donna che Uccise Due Volte". Tra le produzioni più significative compaiono: "La Notte Prima", mediometraggio realizzato in collaborazione con il Comune di Cosenza e presentato all'interno degli Spazi LuceCinecittà della 72esima Mostra del Cinema di Venezia; "Living Cosenza Theatre", documentario sulla presenza di Judith Malina a Cosenza negli anni '90; i cortometraggi pluripremiati "Re di Roma", "Il Turista" e "Recherche", quest'ultimo per la regia di Andrea Belcastro. Attualmente, Nucci e Rovito sono alle prese con la pre-produzione del film lungometraggio "Arbëria", prodotto in collaborazione con Calabria e Basilicata Film Commission e diretto dalla regista piemontese Francesca Olivieri; dei cortometraggi "Memorie di un Santo in Agosto", del toscano Samuele Portera, e "Amal", diretto da tre giovani registi del Meridione. Alla storica collaborazione tra i fondatori della Open Fields Productions, per la realizzazione di "Matera 15/19: Episodio I" si è scelto di affiancare il know-how tecnico/artistico di Alessandro Nucci.
Fabrizio Nucci, Nicola Rovito, Alessandro Nucci are authors and directors of the documentary "Matera 15/19: Episodio I".  The first two, founders of the Open Fields Producitions boast in their production full-length films, short films, documentaries and music videos.  It was in 2013 that Nucci and Rovito challenged themselves with their first full-length film "Goodbye Mr.President". This no-budget film attracted an audience of more than 3500 people thanks to the self-distribution in 10 film theatres around the Italian regions of Calabria and Apulia. Among their most significant works we can find "La Notte Prima", a medium-length film presented in the section Spazi Luce Cinecittà at the 72nd annual Venice film festival, together with the documentary "Living Cosenza Theatre" and the award winning short films "Re di Roma", "Il Turista" and "Recherche". For the production of "Matera 15/19: Episodio I" the long-standing collaboration between the two founders of the Open Field Productions has been matched with Alessandro Nucci's technical and artistic know-how. This last, born in Cosenza and grown up in Rome, alternated his activity as camera operator for the most well-known production services and societies of the Italian capital city ("SBP", "Wilder", "Road Television") -specializing mainly in reports-  with the freelance production of documentaries for important customers.