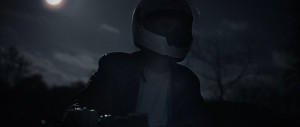 Regista / Director: Philipp Kässbohrer
Durata / Running: 5'
Genere / Genre: Fiction
Anno / Year: 2015
Nazione / Country:  Germany
"La solitudine è una cattiva compagnia, mi ha sviato". Una notte, un gesto, una conseguenza. La canzone Scooter Accident e il video che la accompagna sono fedeli al titolo e dimostrano come la solitudine, la frustrazione e la violenza non siano necessariamente i migliori ingredienti per un futuro roseo.
Solitude is bad company, it had me mislead" – One night, one action, one consequence. The song "Scooter Accident" and ist accompanying video stay true to the title and demonstrate, how solitude, frustration and violence are not necessarily the best ingredients for a rosy future.
|BLOCK 6| Sala Cimino – 11 Aug , 01:30 |