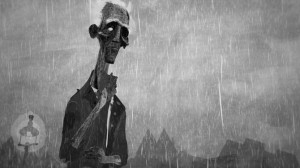 The hungry corpse
Gergely Wootsih, Ani , 8 min. United Kingdom
Un racconto breve ambientato nella vivace Londra, eppure in una desolata Trafalgar Square con un vecchio e piuttosto affamato cadavere e .. un piccione. Doppiato da Bill Nighty (L'amore davvero – Pirati dei Caraibi) e Stephen Mangan ("Green Wing") il film è un racconto di compagnia ma anche un'impronta nella tessitura di una Londra monocromatica e scura, vista dalla prospettiva di un calmo e solitario protagonista.
A short tale set in London's bustling, yet desolate Trafalgar Square about an ancient, rather hungry Corpse and… a Pigeon. Voiced by Bill Nighy ('Love Actually', 'Pirates of the Caribbean') and Stephen Mangan ('Green Wing') the film is a tale of companionship but also, a textural imprint of a dark, monochrome London from the perspective of a still, solitary protagonist.
Comments
comments