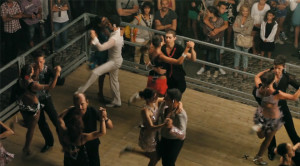 Zapruder – Nadia Ranocchi – David Zamagni
· Rats leave the ship, 2012, IT, 30:19
· A mimetic project poised between a reality show and a documentary of a live performance. In the cradle of Romagnol folklore, Zapruder stages a dance marathon with a cash prize for the last standing couple. The rules of the way it unfolds are based on a competition aimed at gradually emptying the framework. The point of view is that of the sniper, the infiltrator, the observer par excellence, he who overlooks the participants while they are competing for the stage and for victory.
Comments
comments