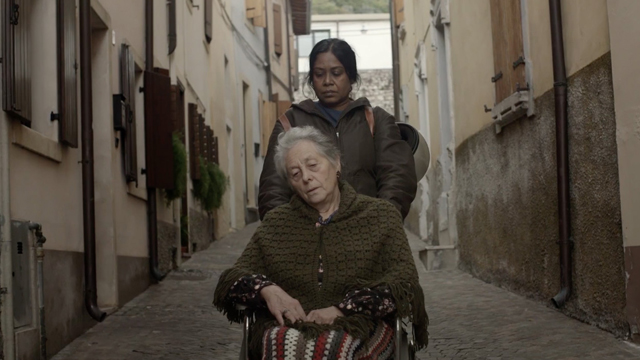 PER UN FIGLIO
Italy – 2016 – 75'
Regia / Director: Suranga Deshapriya Katugampala
Sceneggiatura / Screenplay: Suranga D. Katugampala, Aravinda Wanninayake
Montaggio / Editing: Lizi Gelber, Silvia Pellizzari
Fotografia / Cinematography: Channa Deshapriya
Musica / Music: Federico Imperiale
Interpreti / Cast: Kaushalya Fernando, Julian Wijesekara, Nella Pozzerle
Sinossi / Synopsis
Provincia di una città del nord Italia. Sunita, una donna cingalese di mezz'età, divide le sue giornate tra il lavoro di badante e un figlio adolescente. Fra loro regna un silenzio pieno di tensioni. È una relazione segnata da molti conflitti. Essendo cresciuto in Italia, il figlio fa esperienza di un'ibridazione culturale difficile da capire per la madre, impegnata a lottare per vivere in un paese al quale non vuole appartenere.
Province of a city in Nothern Italy. Sunita, a middle-aged Sinhalese woman, splits her days between a caretaker job and her adolescent son. There's a silence full of tension between them. It's a relationship marked by too many conflicts. Being raised in Italy, her son esperiences a cultural mongrel that is hard to understand for her mother, too busy fighting for living in a country to which she doesn't want to belong.
SURAGA DESHAPRIVA KATUGAMPALA
Biografia / Biography:
Suranga Deshapriya Katugampala è nato in Sri Lanka. Dopo i primi anni passati nel paese d'origine, emigra con la famiglia in Italia, dove coltiva la passione per il cinema d'autore. Si laurea in informatica multimediale e lavora come docente per workshop di videonarrazione. Dopo vari cortometraggi sperimentali, nel 2013 realizza la webserie Kunatu – Tempeste, un progetto a budget zero in cui narra della sua comunità in Italia. Per un figlio è il suo primo lungometraggio. La protagonista Kaushalya Fernando è una delle attrici più popolari in Sri Lanka.
Suranga Deshapriya Katugampala was born in Sri Lanka. After the first years in his native country, he moves to Italy with his family, where he grows his passion for the art film. He degrees on multimedia Informatics and works as a teacher in several video storytelling workshops. After various experimental short movies, in 2013 he produces the web-series Kunatu – Storms, a zero budget project in which he talks about his own community in Italy. Per un figlio (For A Son) is his first feature film. The main actress, Kaushalya Fernando is one of the most popular actresses in Sri Lanka.