SPAZIO ITALIA
Miglio Film ex aequo/Best Film ex aequo
Manto di/by Gianluca Marinelli
Non gioco più di/by Sebastiano Luca Insinga
******** ******** ********
CORTOMETRAGGI FICTION/SHORT FICTION FILM
Miglior Sceneggiatura/Best Script
Seven Minutes di/by Sheva Dakot, Assaf Machnes (Israel)
Miglior Attrice/Best Actress
Alena Dzebo in Import di/by Ena Sendijarevic (Netherlands)
Miglior Attore/Best Actor
Philippe Grand'Henry in Le Plombier di/by Méryl Fortunat-Rossi &amp, Xavier Séron (France)

Menzione speciale della Giuria/Special Mention of Jury
Shabi ke Sobh nashod di/by Mohammad Baghi (Iran)
Miglior Film/Best Film
Import di/by Ena Sendijarevic (Olanda)
******** ******** ********
CORTOMETRAGGI DI ANIMAZIONE/SHORT ANIMATION FILM
Menzione speciale della Giuria/Special Mention of Jury
And The Moon Stands Still di/by Yulia Ruditskaya (Belarus)
Miglior Sceneggiatura/Best Script
Morning cowboy di/by Fernando Pomares (Spain)
Miglior Tecnica/Best Technique
O matko di/by Paulina Ziotkowska (Polond)

Miglio Film/Best Film
O matko di/by Paulina Ziotkowska (Polond)

******** ******** ********
CORTOMETRAGGI DOCUMENTARI/SHORT DOCUMENTARY FILM
Miglior Fotografia/Best Cinematography
Manodopera di/by Loukianos Moshonas (Grecia)
Miglior Soggetto/Best Topic
Maria vola via di/by Michele Sammarco (Italia)
Miglior Film/Best Film
By my side di/by Zanyar Muhanhadineko (Iran – Kurdistan)
******** ******** ********
The FlexyMovies Award per/for A Father's Will di/by Bakyt Mukul, Dastan Zhapar Uulu (Kyrgyzstan)

******** ******** ********
LUNGOMETRAGGI DOCUMENTARI/FEATURE DOCUMENTARY FILM
Miglior Soggetto/Best Topic
La Grande Monnezza di/by Chiara Bellini

Miglior Fotografia/Best Cinematography
Urli e Risvegli di/by Nicola Ragone (Italy)
Miglior Soggetto/Best Topic
La Grande Monnezza di/by Chiara Bellini (Italy)
Miglior Film/Best Film
You Reap What You Sow di/by Alaa Ashkar (France/Palestina)
******** ******** ********
LUNGOMETRAGGI FICTION/FEATURE FICTION FILM
Menzione speciale per il sound design/Special Mention for sound design
Vigilia di/by Julieta Ledesma
che (Argentina)

Miglior Attore/Best Actor
Ali Sultan in In Vrijheid di/by Floor van der Meulen (Germany)
Miglior Attrice/Best Actress
Nazmiye Orals in In Vrijheid di/by Floor van der Meulen (Germany)
Miglior Soggetto/Best Topic
A Father's Will di/by Bakyt Mukul, Dastan Zhapar Uulu (Kyrgyzstan)
Miglior Fotografia/Best Cinematography
Vigilia di/by Julieta Ledesma
che (Argentina)

Miglio Film/Best Film
Vigilia di/by Julieta Ledesma
che (Argentina)
******** ******** ********
PREMI DELLA GIURIA POPOLARE/POPULAR JURY AWARD
Menzione speciale – Miglior Fotografia/Special Mention Best Cinematography
Vigilia di/by Julieta Ledesma
che (Argentina)
Miglior Soggetto originale/Best original Topic
Le Plombier di/by Meryl Fortunat-Rossi & Xavier Seron (Frenc)
Miglior Soggetto/Best Topic
A Father's Will di/by Bakyt Mukul, Dastan Zhapar Uulu (Kyrgyzstan)

Miglior Interpretazione/Best Performance
Nazmiye Orals dal film/of movie In Vrijheid di/by Floor van der Meulen (Germany)
Miglior Regia/Best Director
Adaptation di/by Bartosz Kruhlik (Poland)
Miglior Tecnica/Best Technique
Cavalls Morts di/by Marc Riba, Anna Solanas (Spain)
LUNGOMETRAGGI FICTION/FEATURE FICTION FILM
Miglior Film/Best Film
In Vrijheid di/by Floor van der Meulen (Germany)
CORTOMETRAGGI FICTION/SHORT FICTION FILM
Miglior Film/Best Film
Shabi ke Sobh nashod di/by Mohammad Baghi (Iran)

LUNGOMETRAGGI DOCUMENTARI/FEATURE DOCUMENTARY FILM
Miglior Film/Best Film
Urli e Risvegli di/by Nicola Ragone (Italy)

CORTOMETRAGGI DI ANIMAZIONE/SHORT ANIMATION FILM
Miglior Film/Best Film
Corp di/by Pablo Polledri (Argentina)
CORTOMETRAGGI DOCUMENTARI/SHORT DOCUMENTARY FILM
Miglior Film/Best Film
O Entalhador, ou a oficina mais bela do mundo di/by João Vasco (Portugal)

PROGRAMMA UFFICIALE/OFFICIAL PROGRAM
9 agosto/august 2017
SALA INTERNA
18:00/19:00 – Proiezioni/Screening – Spazio Italia | Matera 15/19 di/by Fabrizio Nucci, Nicola Rovito e Alessandro Nucci
23:00/00:15 – Proiezioni/Screening Blocco/Block 3
00:15/01:30 – Proiezioni/Screening Blocco/Block 4
SALA 1
19:15/20:30 – Proiezioni/Screening Blocco/Block 1
21:40 – Che cosa è il cinema Sordo? a cura di/by Deborah Donadio – Cinedeaf
21:45/23:00 – Proiezioni/Screening Blocco/Block A
SALA 2
20:30/21:45 – Proiezioni/Screening Blocco/Block 2
21:45/23:45 -Proiezioni/Screening Blocco/Block C
PIAZZA SCOLA
23:00/00:00 – Talk scenico di Astro-Turismo "Cinema e Fantascienza"/Talk about "Cinema and Science Fiction" con/with Pippo Bianco (Agenzia Spaziale Italiana) e/and Armando Corridore (The Magazine of Fantasy & Science Fiction)
00/01:00 – Music Event | Sandro Savino in "Promenade with monk"
OUTus
01:00 – Dj set di/by Tom Rapp
****
10 agosto /august 2017
PISTICCI – CASA COMUNALE
17:30 – Conferimento della cittadinanza onoraria al maestro Giancarlo Giannini presso la Casa Comunale della Città di Pisticci. Incontro con i giornalisti

SALA INTERNA
18:00/19:00 – Proiezioni/Screening – Extra – Gramsci 44 di/by Emiliano Barbucci
21:45/23:00 – Proiezioni/Screening – Blocco/Block F
00:45/02:00 – Proiezioni/Screening – Blocco/Block 7
SALA 1
19:30/20:30 – Proiezioni/Screening Blocco/Block 6
20:30/22:00 – Proiezioni/Screening Blocco/Block 5
SALA 2
20:30/21:30 – Proiezioni/Screening Blocco/Block D
PIAZZA SCOLA
23:00 – Lectio Magistralis di/by Giancarlo Giannini – modera/present Manuela Gieri (Prof.ssa Unibas)
Orchestra "La Paganini" – Musica e Cinema/Music and Cinema
OUTus
01:00 – Dj set
****
11 agosto/august 2017
SALA INTERNA
18:00/19:00 – Proiezioni/Screening – Extra | La cacciata del Malvento di/by Donato Canosa
Talk Book – "La Maciara indaffarata" di/by Angelo Lucano Larotonda presenta /present Andrea Di Consoli
19:30/21:15 – Proiezioni/Screening – Extra | Le ali del Destino di/by Gianna Menetti, Vittorio Viscardi | Tek di/by David Cinnella
Proiezioni/Screening – Spazio Italia | Manto di/by Gianluca Marinelli
21:45/23:45 – Proiezioni/Screening Blocco/Block B
23:45/00:45 – Proiezioni/Screening Blocco/Block 8
SALA 1
20:30/21:45 – Proiezioni/Screening Blocco/Block 2
21:45/23:00 – Proiezioni/Screening Blocco/Block E
SALA 2
21:45/23:00 – Proiezioni/Screening Blocco/Block 1
23:00:/01:00 – Proiezioni/Screening Blocco/Block 9
PIAZZA SCOLA
23:00:/00:00 – Talk "Cinema on Demand" con/with Alessandro Masi
00:00/01:00 – Live Performance di/by Fabio Orsi
OUTus
01:00 – Dj set di/by Arthur Green
****
12 agosto/august 2017
SALA INTERNA
18:00/19:30 – Masterclass di/by Mohsen Makhmalbaf (prenotazione gratuita su//by free reservation only on office@lucaniafilmfestival.it)
19:30/20:00 – Proiezioni/Screening – Spazio Italia | Non gioco più di/by Sebastiano Luca Insinga
Proiezioni/Screening – Spazio Italia | Le ali Velate di/by Nadia Kibout
23:00/00:15 – Proiezioni/Screening – Spazio Italia | Per un figlio di/by Suranga Deshapriya Katugampala

SALA 1
19:15/20:30 – Proiezioni/Screening Blocco/Block 5
20:30/22:30 – Proiezioni/Screening Blocco/Block C
SALA 2
20:30/21:45 – Proiezioni/Screening Blocco/Block E
21:45/22:45 – Proiezioni/Screening Blocco/Block A
PIAZZA SCOLA
21:45/22:30 – Talk con/with Lillo Petrollo & Fabio Morici (Diretta streaming)
23:00/00:00 – Lectio Magistralis "Bellezza e Censura" di/by Mohsen Makhmalbaf – modera/present Francesco Martinotti (Presidente Anac)
00:00/00:45 – Eufemia Mascolo in Musica Visiva
OUTus
01:00 – Dj set di/by Alexander Coates Leprechauns
****
13 agosto/august 2017
SALA INTERNA
18:00/19:00 – Proiezioni/Screening – Extra | Love di/by Waddah Alfahed | Rock the world: Italy and Jamaica in the mighty name od ska di/by Federico Giannace | From Hasake with love di/by Mohammad Farahani | A present for Robert di/by Patrick Aubert | Recherche di/by Andrea Belcastro
19:00/21:15 – Proiezioni/Screening Blocco/Block B
23:30/02:00 – Proiezioni Film vincitori/Winner Film screening
SALA 1
19:00/20:15 – Proiezioni/Screening – Extra | Terra Rossa di/by Ulderico Pesce | L'ultimo desiderio di/by Geo Coretti
SALA 2
21:15/22:45 – Proiezione Speciale/Special screening | Salaam Cinema di/by Mohsen Makhmalbaf
PIAZZA SCOLA
20:15/21:00 – Anteprima Materadio | Intervista a/Interview to Mohsen Makhmalbaf a cura di/by Steve Della Casa – Hollywood Party – Radio 3
22:45/23:30 – Cerimonia di Premiazione/Award Ceremony | Premio speciale alla carriera a/Lifetime Achievement Award to Mohsen Makhmalbaf | Premio speciale Flexy Movies/Special award Flexy Movies
23:30/00:30 – Music Event | Atollo 13 in concerto/concert
OUTus
01:00 – Dj set di/by Psychocandy
*****
BLOCCO 1
CA – Phone | Harriet Holman-Penney | United Kindom | 3 min
CD – Nobody dies here | Simon Panay | 2016 | France | 23 min
LD – BR43, EEN Dagboek | Jeannice Adriaansens | 2017 | Netherlands | 43 min
BLOCCO 2
LD – Urli e Risvegli | Nicola Ragone | 2016 | Italy | 50 min
CA – Taboek | Dario Van Vree | Netherlands | 3 min
CD – Zufall | Odermatt Thais | 2016 | Switzerland- Germany | 6 min
CF – Quiet Generation | Antimo Campanile | 2016 | Italy | 15 min
BLOCCO 3
CF – Adaptation | Bartosz Kruhlik | 2016 | Poland | 25 min
CF – Bleu-Gris | Laëtitia Martinucci | 2016 | France | 14 min
CA – O matko | Paulina Ziotkowska | Poland | 12 min
CD – Maria vola via | Michele Sammarco | 2017 | Italy | 15 min
BLOCCO 4
CF – Import | Ena Sendijarevic | 2016 | Netherlands | 17 min
CF – Le Plombier | Méryl Fortunat-Rossi & Xavier Séron | 2016 | France | 14 min
CF – Lost Face | Sean Meehan | 2017 | Australia | 14 min
CF – The Smoke | Ivan Plechev | 2017 | Russia | 23 min 23
CA – Spider web | Natalia Chernysheva | Russia | 4 min
BLOCCO 5
CD – Track | Reza Golchi | 2017 | Iran | 4 min
CA – Don't Think of a Pink Elephant | Suraya Raja | United Kindom | 8 min
CF – Marlon | Jessica Palud | 2017 | France | 19 min
CF – Seven Minutes | Sheva Dakot, Assaf Machnes | 2017 | Israel | 14 min
CF – Shabi ke Sobh nashod | Mohammad Baghi | 2017 | Iran | 12 min
CA – Przytul mi glowe | Ewa Łuczków | Luczkow | Poland | 10 min
BLOCCO 6
CF – Mama | Begaly Shibikeyev | 2017 | Kazakhstan | 15 min
CF – Dust of time | Nadya Zakharova | 2017 | Russia | 20 min
CA – Cavalls Morts | Marc Riba, Anna Solanas | Spain | 6 min
BLOCCO 7
CF – Todos Bailaban | Jurek Jablomicky Pineda | 2017 | Honduras | 19 min
CA – And The Moon Stands Still | Yulia Ruditskaya | Belarus |10 min
CA – Au revoir Balthazar | Rafael Sommerhalder | Switzerland | 9 min
CA – Corp | Pablo Polledri | Argentina | 9 min
CA – Morning cowboy | Fernando Pomares | Spain | 15 min
CA – Tuhi ruum | Ulo Pikkov | Estonia | 10 min

BLOCCO 8
CA – Engine of Time | Ilenia Locci, Fabio Loi | Italy | 15 min
CA – Falling Bebe | Wang Yang Zhen | Taiwan | 5 min
CA – La costa dorada | Noémi Gruner France | Belgium | 10 min
CA – Locus | Anita Kwiatkowska | Poland | 10 min
CA – Beti bezperako koplak | Ageda Kopla Taldea | Spain | 5 min
CD – O Entalhador, ou a oficina mais bela do mundo | João Vasco | 2017 | Portugal | 10 min
BLOCCO 9
CA – Revoltoso | Arturo & Roy Ambriz | Mexico | 30 min
CD – Lembranza | Alberto Diaz Lopez | 2016 | Spain | 21 min
CD – Manodopera | Loukianos Moshonas | 2016 | Greece | 28 min
BLOCCO A
LD – La Grande Monnezza | Chiara Bellini | 2016 | Italy | 57 min
CA – Cavalls Morts | Marc Riba, Anna Solanas | Spain | 6 min
CD – By my side | Zanyar Muhanhadineko | 2017 | Iran (Kurdistan) | 6 min
BLOCCO B
LF – Immortality | Mehdi Fard Ghaderi | 2016 | Iran | 145 min
BlOCCO C
LF – A Father's Will | Bakyt Mukul, Dastan Zhapar Uulu | 112 min
BLOCCO D
LF – In Vrijheid | Floor van der Meulen | 2016 | Germania | 47 min
CF – Silence | Ali Asgari , Farnosh Samadi | 2016 | Italy | 15 min
BLOCCO E
LD – You Reap What You Sow | Alaa Ashkar 2017 | France-Palestine | 70 min
BLOCCO F
LF – Vigilia | Julieta Ledesma | 2016 | Argentina | 108 min
SPAZIO ITALIA
SP – Matera 15/19 | Fabrizio Nucci, Nicola Rovito e Alessandro Nucci | 2016 | Italy | 52 min
SP – Manto | Gianluca Marinelli | 2017 | Italy | 13 min
SP – Non gioco più | Sebastiano Luca Insinga | 2017 | Italy | 14 min
SP – Le Ali Velate | Nadia Kibout | 2016 | Italy | 15 min
SP – Per un figlio | Suranga Deshapriya Katugampala | 2016 | Italy | 75 min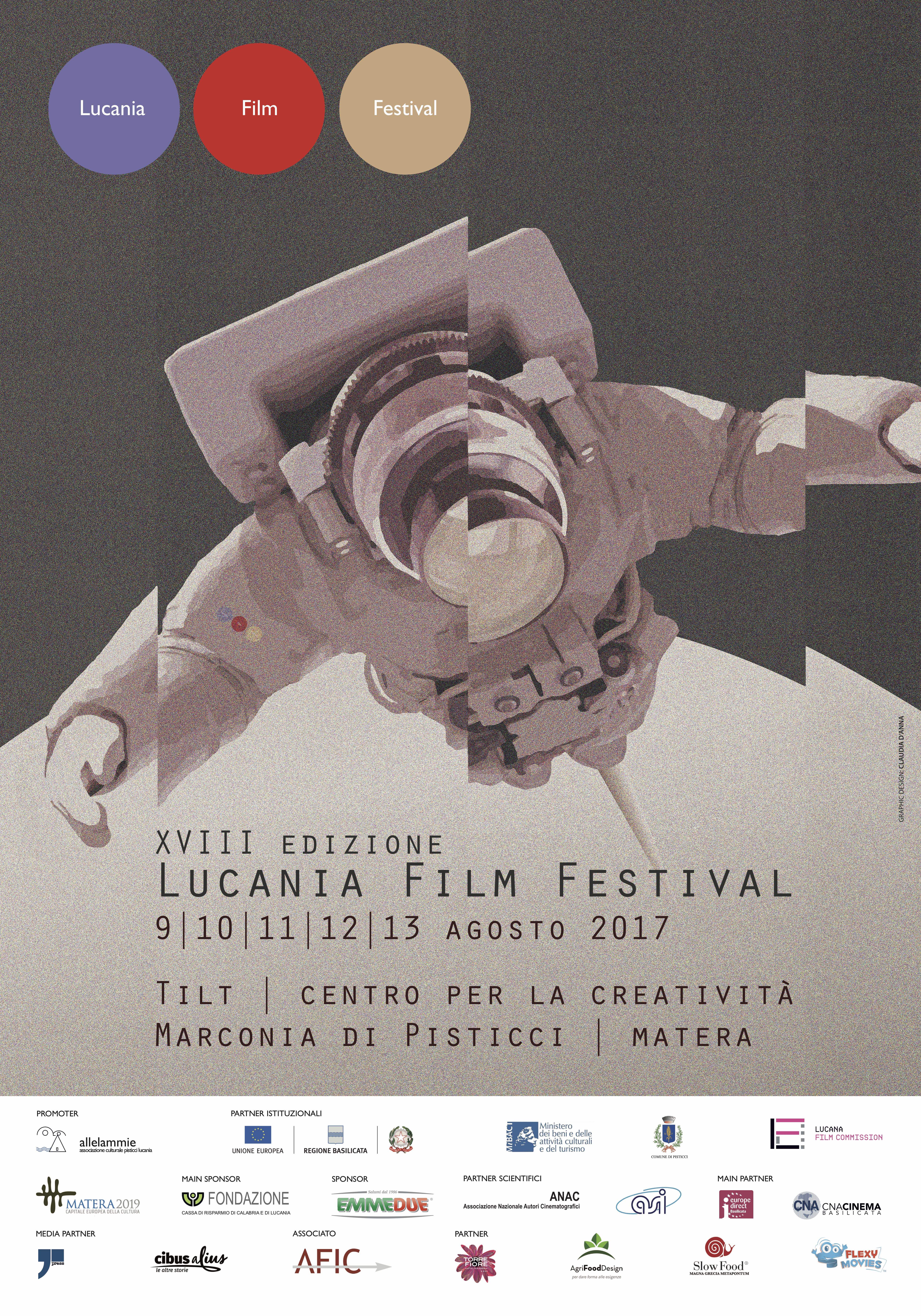 Concept
Il concept grafico della 18a edizione del Lucania Film Festival è incentrato sulla 'estrema istanza del bisogno "dell'Altro e dell'Altrove", intesi come "individui" o "mondi" possibili. Paradossalmente l'urgenza della ricerca e dell'incontro con "L'Altro e con l'Altrove" viene incarnata dalla figura dell'astronauta.
Un astronauta in missione nello spazio che, attraverso un occhio meccanico innestato sulla testa, ricerca frequenze e segnali provenienti da altre galassie o dall'orizzonte degli eventi, per inoltrarne il segnale, con un tubo catodico, alla Terra.
The graphic concept of the 18th edition of the Lucania Film Festival focuses on the extreme need for the "Other and the Elsewhere", understood as possible "individuals" or "worlds". Paradoxically, the urgency of research and the encounter with "The Other and the Elsewhere" is embodied by the figure of the astronaut. An astronaut on a mission in space who, through a mechanical eye attached to his head, searches for frequencies and signals from other galaxies or from the event horizon, to forward the signal, with a cathode ray tube, to the Earth.