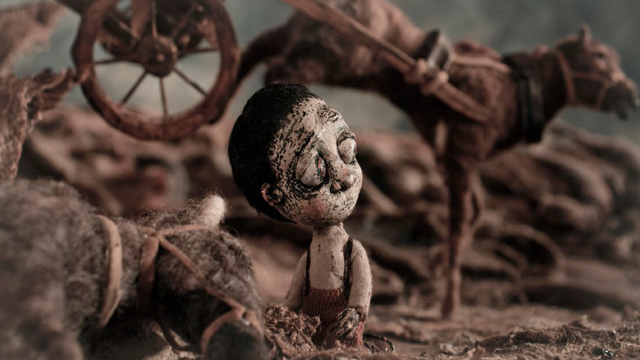 CAVALLS MORTS
Spain – 2016 – 6'
Regia / Director: Marc Riba, Anna Solanas
Sceneggiatura / Screenplay: Marc Riba, Anna Solanas
Montaggio / Editing: Sergi Martì
Fotografia / Cinematography: Anna Molins
Musica / Music: Xavi Loses
Sinossi / Synopsis
In un luogo isolato e sperduto durante la guerra, un bambino è costretto a fuggire. Lungo il cammino, vede cavalli morti ovunque. Solo cavalli morti. Perchè? Perchè i cavalli hanno deciso di uccidersi?
In an isolated and unknown place during a war, a child is forced to flee. Along the way, he sees horses corpses everywhere. Only dead horses. Why? Why have the horses decided to kill themselves?
ANNA SOLANAS & MARC RIBA
Biografia / Biography:
Anna Solanas è nata nel 1979 a Barcellona, Spagna. Marc Riba è nato nel 1978, anch'egli a Barcellona, Spagna. Marc Riba e Anna Solanas lavorano nel mondo dell'animazione a passo uno (stop-motion) da 15 anni. Hanno girato 10 cortometraggi che sono stati selezionati in più di 1000 festival in tutto il mondo.
Anna Solanas was born in 1979 in Barcelona, Spain. Marc Riba was born in 1978 in Barcelona, Spain. Marc Riba and Anna Solanas have been working in the world of puppet animation for 15 years. They have made 10 short films which have been selected in more than 1000 festivals around the world.