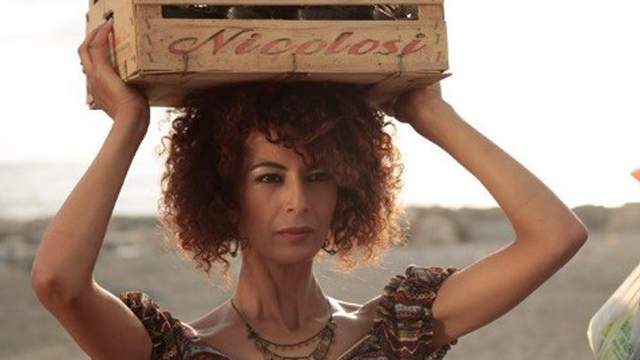 LE ALI VELATE
Italy – 2016 – 15'
Regia / Director: Nadia Kibout
Scenografia / Scenography: Anna Scordio
Montaggio / Editing: Tina Mascara
Fotografia / Cinematography: Ugo Lo Pinto
Musica / Music: Peitor Angell
Interpreti / Cast: Nadia Kibout, Paola Lavini, Matteo Carlomagno, Damian Lo Pinto
Sinossi / Synopsis
Imma deve recarsi a Salerno per il compleanno della sua nipotina, a cui vuole portare un regalo: un coniglietto. Consultando internet, entra nel sito Blablacar, dove offrono passaggi in auto. Contatta con Nadia, giovane donna araba, che veste il velo secondo i precetti dell'islam, anche lei  deve recarsi per il week end a Salerno con suo figlio.  Nadia, è una ragazza  gentile e solare, rimasta vedova. Imma verrà coinvolta suo malgrado in avvenimenti che caratterizzeranno un viaggio avventuroso.
Imma has to go to Salerno for her niece's birthday to whom she wants to bring a little rabbit as a present. Surfing on the Internet she enters the Blablacar site where people trade car lifts. She then contacts Nadia, a young Arab woman who wears the veil, according to Islam rules: she has to go to Salerno for the weekend with her son. Nadia is a gentle and joyous girl and she's a widow. Imma will be involved, reluctantly, in events that will characterize an adventurous journey.
NADIA KIBOUT
Biografia / Biography:
Nadia Kibout nasce a Saint-Etienne in Francia da genitori algerini. Nel 2004 incomincia la sua carriera con un film drammatico, opera prima di Mario Rellini, Balletto di Guerra, a cui seguiranno altre pellicole cinematografiche e fiction televisive. Il teatro, con la regia di Sergio Castellitto per lo spettacolo "Il Dubbio" in tournée in tutta Italia, le offre una bellissima esperienza. La passione e la dedizione in ciò che fa la sostengono nel desiderio di una carriera ricca di personaggi ed incontri. Si è diplomata presso l'Accademia Cours Florent di Parigi ed ha ampliato la sua formazione frequentando workshop e stage: con Greta Seacat (Actor's Studio – New York), "Sul corpo, la sensorialità e le emozioni" con Riccardo Magherini, di Recitazione con Dominique de Fazio (Actor's Studio – New York), con la Compagnia MOMIX di Moses Pendleton, presso la Scuola Internazionale di Danza con Rossella Hightower (Cannes), alla New York American Theatre Ballet & Steps School e un corso di canto con il M° Michele Fischietti. Nel 2010 interpreta La zingara in Per Sofia di Ilaria Paganelli.
Nadia Kibout was born in Saint-Etienne in France to Algerian parents. In 2004 she starts her career with a dramatic film, the first feature film of Mario Rellini, War Ballet, to which will follow other movies and fiction films. The theater, directed by Sergio Castellitto for the piece "The Doubt" will offer her a wonderful experience. Her passion and dedication sustain her in a desire of a career full of characters and meetings. She had a degree at Cours Florent Academy in Paris and she has widened her formation by attending workshops and stages: with Greta Seacat (Actor's Studio – New York), "On body, sensoriality and emotions" with Riccardo Magherini, of Drama with Dominique De Fazio (Actor's Studio – New York), with the MOMIX Company of Moses Pendleton, with Rossella Hightower at the International Dance School (Cannes), at New York American Theatre Ballet & Steps School and a singing course with Mr. Michele Fischietti. In 2010 she plays as "the Gipsy woman" in "For Sofia" by Ilaria Paganelli.