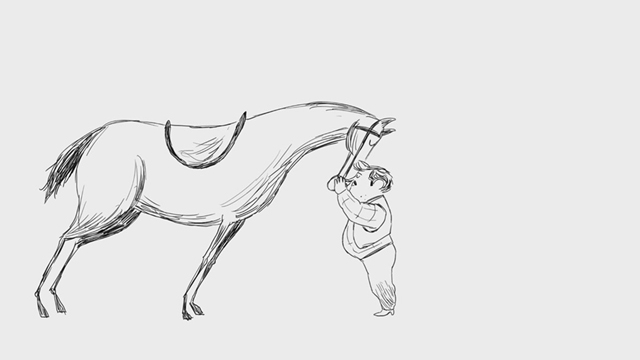 MORNING COWBOY 
Spain – 2016 – 15'
Regia / Director: Fernando Pomares
Sceneggiatura / Screenplay: Fernando Pomares
Montaggio / Editing: Fernando Pomares
Produzione / Producer: Travelogue Studio
Musica / Music: Los Hermanos Cubero
Sinossi / Synopsis
Dopo il caffè del mattino e prima di andare a lavoro, Jose ha un'idea geniale: si vestirà da cowboy. Jose farà un viaggio nel suo passato, in una storia toccante piena di humour. Morning Cowboy è una commovente storia sui sogni e un appello a dare significato ad ogni giorno, a vivere la vita che vogliamo.
as a cowboy. Jose will make a journey through his past, in a sensitive story full of humour. Morning Cowboy is an emotional story about dreams and a call to make every day count, to live the life that we want.
FERNANDO POMARES
Biografia / Biography:
Fernando Pomares ha studiato alla ESCAC (Escola Superior de Cinema i Audiovisuals de Catalunya), specializzandosi in montaggio. E' coordinatore della post-produzione dello studio di produzione di animazione Citoplasmas, nonché membro del collettivo  Non Stop Barcelona Animaciò che promuove l'animazione a Barcellona. ALTO SAUCE è il suo primo cortometraggio da regista. Al momento sta lavorando a dei nuovi progetti con la sua società Travelogue Studio.
Fernando Pomares studied in ESCAC and specialized in editing. He is the postproduction coordinator of the animation production studio Citoplasmas, and a member of the collective Non Stop Barcelona Animació which promotes animation in the city of Barcelona. ALTO SAUCE is his first short film as a director. He is now working on new projects with his own company Travelogue Studio.