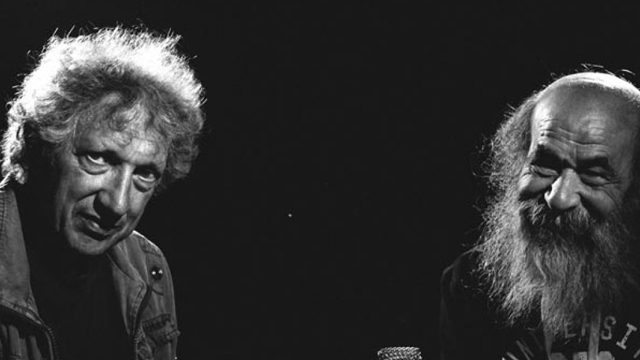 Urli e Risvegli
Italy – 2017 – 43'
Regia / Director: Nicola Ragone
Sceneggiatura / Screenplay: Andrea Filardi
Montaggio / Editing: Dario Indelicato
Fotografia / Cinematography: Ugo Lo Pinto
Musica / Music: Angelo Vitaliano
Interpreti / Cast: Carmine Donnola, Eugenio Bennato
Sinossi / Synopsis
Il ritratto di Carmine Donnola, uomo barbuto e silenzioso, con gli occhi vispi e pieni di vita vissuta. Da giovane avrebbe voluto fare l'attore, ma nessuno ha mai creduto nel suo talento. Oggi ha circa sessant'anni e vive nel suo paese di origine, Grassano, piccolo comune dell'entroterra lucano. Qui fa il bidello in una scuola media. Il suo passato è stato caratterizzato da una lunga dipendenza dalla "bottiglia", problema superato attraverso la poesia: un vernacolo "grezzo" e rugoso che ancora oggi nutre Carmine nel suo cammino errante.
A portrait of Carmine Donnola, bearded and silent man with vivid eyes full of life. As a young man he should have been an actor, but nobody believed in his talent. Today he's around 60-year-old and lives in his hometown, Grassano, a small town of the Lucanian hinterland. Here he is a janitor in a middle school. His past is charcterized by a long addiction to alcohol, a problem which he has overcome thanks to poetry: a raw and rough language that still feeds Carmine in his wandering journey.
PAOLO ROSSI
Biografia / Biography:
Sceneggiatore, regista teatrale e cinematografico. Con altri suoi collaboratori fonda un'officina culturale chiamata "Fullframe". Inoltre aderisce al movimento teatrale "Minimo Comune Teatro". Approda alla scena teatrale proponendo adattamenti da testi classici e moderni. Nel 2013 partecipa, come aiuto-regia, alla realizzazione del documentario/backstage del film "Che strano chiamarsi Federico" diretto da Ettore Scola, nel quale interpreta anche, come attore, il ruolo di Marcello Marchesi. "Sonderkommando" (2014), affresco che racconta la nascita di un amore omosessuale in un campo di sterminio, opera ritenuta di interesse culturale nazionale e quindi finanziata dal Ministero dei Beni Culturali, ottiene il nastro d'argento. Nello stesso anno, firma la regia del cortometraggio "La Riva", progetto finanziato dalla Lucana Film Commission e prodotto da Arifa Film e di "Marciapiedi", cortometraggio prodotto da Aureliano Amadei e Maiora Film per il progetto "Cinema Inventato".
Scriptwriter, theatre and film director. With other colleagues he is the founder of a cultural association called "Fullframe". He also takes part to the theatre movement "Minimo Comune Teatro". He arrives to the theatre spotlight with adaptations of classic and modern works. In 2013 he joins as assistant director the making of the documentary/backstage of the film "Che strano chiamarsi Federico"(How strange to be named Federico), directed by Ettore Scola. On the set he works as an actor too, playing the role of Marcello Marchesi. "Sonderkommando"(2014) is a portrait of a homosexual love in a death camp; the film, recognized as a work of national cultural interest and therefore financed by the Ministry of Culture, has been awarded with the Nastro d'Argento. In the same year he directs the short film "La Riva", a project funded by the Lucana Film Commission and produced by Arifa Film, and "Marciapiedi", short film produced by Aureliano Amadei and Maiora Film for the project"Cinema Inventato".