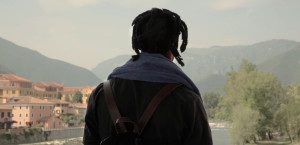 Regista / Director: Michale MacGarry
Durata / Running: 11'
Genere / Genre: Fiction
Anno / Year: 2015
Nazione / Country: South Africa
Un poetico rifacimento di Morte a Venezia, con protagonista un immigrato dell'Africa Occidentale in Italia che si avventura in un viaggio dalle Alpi al mare e, infine, in un viaggio maledetto verso casa. La forma del film è quella di una favola, che innesta il romanzo di Thomas Mann del 1925, Morte a Venezia, alle questioni contemporanee dei rifugiati africani e degli immigrati in Italia. Il film usa il libro di Mann come punto di connessione e vi espande sopra un certo numero di tematiche ienrenti. In Sea of Ash, il protagonista Tazio è un immigrato dal Senegal, sopravvissuto al pericoloso e spesso fatale viaggio per mare. Mentre il protagonista principale dell'opera originale (von Aschenbach) è personificato nello stesso regista, che non si vede. La narrazione segue Tazio in un breve viaggio dalla notevole tomba Brion di San Vito, nelle montagne del Nord Italia, alle coste della laguna veneziana. Sull'isola del Lido Tazio visita il famoso Hotel dés Bains, come accade nel film di Luchino Visconti del 1971. Il film si conclude sulla spiaggia del dés Baines, con Tazio che si imbarca in un viaggio maledetto per tornare a casa.
A poetic re-imagining of Death in Venice, featuring a West African immigrant to Italy who embarks on a journey from the Alpine mountains to the seaside and ultimately, on a doomed voyage home. The form of the film is one of a fable, that grafts Thomas Mann's 1925 novella, Death in Venice, to the contemporary issue of African refugees and immigrants in Italy. The film takes Mann's book as a nexus point and expands upon a number of themes inherent in it. In Sea of Ash, Mann's character Tadzio is an immigrant to Italy from West Africa (Senegal) who has survived the treacherous and often fatal journey by sea. While the lead character of the original – von Aschenbach – is embodied in the unseen filmmaker himself. The narrative of the film follows Tadzio on a short journey from the remarkable Brion Cemetery at San Vito in the mountains of Northern Italy to the coastal area of the Venetian lagoon. On Lido Island he visits the famous Hotel dés Bains as featured in Luchino Visconti's 1971 film version of Death in Venice. The film concludes on the dés Baines beach, with Tadzio embarking on a doomed attempt to return home.
|BLOCK 6| Sala Cimino – 11 Aug , 01:30 |