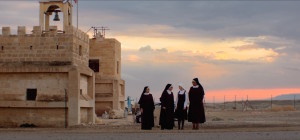 Regista / Director: Basil Khalil
Durata / Running: 15′
Genere / Genre: Fiction
Anno / Year: 2015
Nazione / Country: UK
Le suore del convento "Sorelle della Misericordia", nel bel mezzo della selvaggia Cisgiordania, vivono la loro quotidiana routine di silenzio e preghiera,. Questo fino a quando vengono interrotte da una famiglia di occupanti Ebrei che bussa alla loro porta in cerca d'aiuto dopo essersi schiantati contro le mura del convento.
The Nuns of the 'Sisters of Mercy' Convent, in the middle of the West Bank wilderness, have their daily routineof silence and prayer disrupted when a family of Jewish settlers come knocking at their door for help aftercrashing into the convent's wall.

|BLOCK 6| Sala Cimino – 11 Aug , 01:30 |