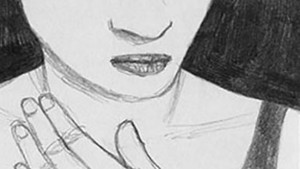 Regista / Director: Magda Guidi
Durata / Running: 5′
Genere / Genre: Animation
Anno / Year: 2015
Nazione / Country: Italy
Una ragazza nuota. Nel buio denso in cui è immersa affiorano delle immagini.
Una bambina è in chiesa, nel giorno della sua prima comunione.
Per un momento, Dalila adulta e Dalila bambina riescono a vedersi.
La bambina ha un'esitazione al momento della comunione. Un dubbio, una presa di coscienza nei confronti del mondo degli adulti, delle loro imposizioni.
Dalila adulta guarda nuovamente negli occhi Dalila bambina, ma si vergogna, e non riesce più a reggere il suo sguardo.
"Dalila" fa parte del progetto "5 storie vere".
A girl is swimming. In the deep dark in which she is immerged, some images come up. A little girl in the church, on the day of her holy communion. For a moment, adult Dalila and young Dalila can see each other. The little girl has an hesitation in the very moment of her holy communion. A doubt, a moment of consciousness about the world of the adults and its impositions. Adult Dalila looks again in young Dalila's eyes, but she's ashamed, and can't bear her look anymore. "Dalila" is part of the project "Five real stories".
|BLOCK 5| Sala Cimino – 11 Aug , 16:30 |