Sreemoyee Singh è una regista di Calcutta (India). Ha conseguito il dottorato di ricerca su "The Exiled Filmmaker in Post-Revolution Iran" presso la Jadavpur University nel 2022. Il suo interesse per il cinema e la poesia iraniani l'ha portata a viaggiare in Iran tra il 2015 e il 2019. Questo viaggio l'ha portata a girare il suo primo lungometraggio documentario "And, Towards Happy Alleys" (Be Kucheye Khoshbakht) e a imparare il persiano presso il Dehkhoda Lexicon Institute e il Center for Persian Studies di Teheran. Le sue ricerche approfondite sul cinema iraniano le hanno permesso di avere un accesso unico ai registi, agli artisti, agli attivisti e alle donne iraniane che generalmente sono diffidenti nei confronti dei media stranieri. Il suo film "And,Towards Happy Alleys" è stato presentato al Festival internazionale del cinema di Berlino (sezione Panorama) nel febbraio 2023 ed è stato proiettato in molti prestigiosi festival cinematografici, vincendo il premio come "miglior lungometraggio" nella competizione internazionale al BAFICI in Argentina. Sreemoyee ha anche lavorato come docente assistente di studi cinematografici alla St. Joseph's University di Bangalore e come docente ospite alla New York University di Abu Dhabi (NYUAD).
Sreemoyee Singh is a filmmaker from Kolkata, India. She completed her PhD on "The Exiled Filmmaker in Post-Revolution Iran" from Jadavpur University in 2022. Her interest in Iranian cinema and poetry saw her travel to Iran between 2015-2019. This journey led to the filming of her first feature length documentary And, Towards Happy Alleys (Be Kucheye Khoshbakht) and learning Persian from Dehkhoda Lexicon Institute and Center for Persian Studies in Tehran. Her in-depth research about the cinema of Iran gave her unique access to Iranian filmmakers, artists, activists, and women who are otherwise wary of interaction with foreign media. And, Towards Happy Alleys launched at the Berlinale International Film Festival (Panorama section) in February 2023 and has gone to screen at many prestigious film festivals, winning the 'best feature' in the International Competition at BAFICI in Argentina. Sreemoyee has also worked as Assistant Professor of Film Studies at St. Joseph's University, Bangalore and a Guest Lecturer at New York University, Abu Dhabi (NYUAD).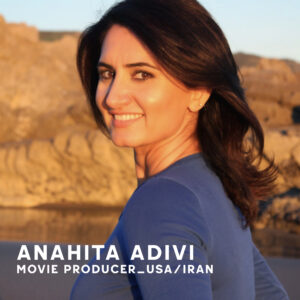 Anahita Adivi è una forza creativa multidisciplinare, lavora nel mondo della produzione e dell'intrattenimento. Con una formazione in sceneggiatura, poesia e un profondo amore per la vita e l'arte, come fondatrice di A Hit Production, ha dedicato i suoi talenti a numerosi scrittori per tradurre le loro idee in sceneggiature avvincenti, poesie o canzoni. La passione di Anahita per la narrazione si estende oltre i mezzi tradizionali. Attraverso il suo canale YouTube condivide contenuti preziosi su salute, benessere e intervista persone che hanno superato difficili prove nella vita. La sua naturale capacità di connettersi con persone di diverse origini deriva dalla sua vasta esperienza di vita su tre continenti e dalla collaborazione con persone di varie culture.
Anahita Adivi is a multifaceted creative force in the world of production and entertainment. With a background in screenwriting, poetry, and a deep love for life, she brings a unique blend of intuition and artistry to her work. As the founder of A Hit Production, she has dedicated her talents to helping writers translate their ideas into captivating screenplays, poetry, or songs. Anahita's passion for storytelling extends beyond traditional mediums. Through her YouTube channel, she shares valuable content on health, wellness, and interviews inspiring individuals who have overcome life-changing ordeals. Her natural ability to connect with people from diverse backgrounds stems from her extensive experience living on three continents and collaborating with individuals from various cultures.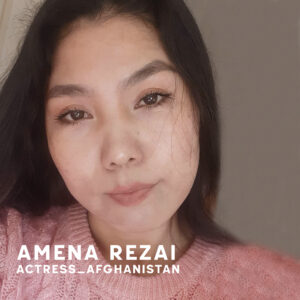 Amena Rezaei, 28 anni, Afghanistan. Si è laureata nel dipartimento di infermieristica. Ha svolto molte attività nel suo paese, come ad esempio lavorare come istruttrice di pronto soccorso. Ha lasciato l'Afghanistan improvvisamente e ha molta esperienza nella sua professione. E' stata volontaria e attivista per i diritti delle donne, ha fatto parte della società civile svolgendo molte attività su questioni importanti. Ha iniziato a recitare interpretando diversi personaggi in alcuni cortometraggi. Il suo sogno è diventare un'attrice di successo, in futuro, nel suo paese.
I'm Amena Rezaei 28 years old and from Afghanistan. I graduated from nursing department. I had much different activities in my country like I was working with an office as a Emergency trainer when I left suddenly Afghanistan and I have many years of experiences on my duty. I was volunteer of women rights and I did advocacy for our rights, I was civil society active and I had many activities and important issues I started to be actress and played some short films too, I saw beautiful dreams to be a successful actress in the future to my country.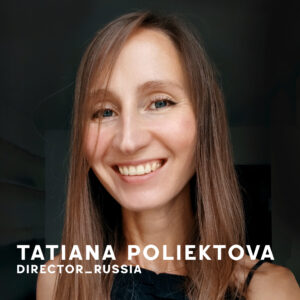 Tatiana Poliektova e la sorella gemella Olga sono nate a San Pietroburgo, in Russia. Fin dai primi anni hanno iniziato a disegnare e si sono diplomate alla scuola d'arte e all'Università di Cinema e Televisione in animazione e computer grafica. In seguito hanno iniziato a lavorare insieme, in duo, come registe di animazione cinematografica. In questi anni hanno realizzato diversi cortometraggi d'animazione selezionati in oltre 300 festival in tutto il mondo ottenendo oltre 60 premi. Tra i riconoscimenti ricordiamo: Giffoni Film Festival e New York Int'l Children's Film Festival. Il loro ultimo film "Mio nonno era un albero di ciliegio" è stato candidato agli Oscar ed è stato selezionato nella Long list come miglior cortometraggio d'animazione. Hanno tenuto diversi workshop sull'animazione cinematografica in Russia, Germania, Italia, Slovacchia, Cina ed Emirati Arabi. Lavorano anche presso lo studio di animazione Peterburg come registe della serie per bambini "Babiriki", che ha miliardi di visualizzazioni su Internet. Nel 2019 hanno terminato il film "Ascolta papà!". Attualmente stanno realizzando un nuovo film "Beast inside" insieme a Sacrebleu productions (Francia) e Cine-Litte productions (Germania).
Tatiana Poliektova, and her twin sister Olga were born in St-Petersburg, Russia. Since early years they began to draw and graduated Art school and University of Cinema and Television in animation and computer graphic. After they started to work together as film director duo and animators. During these years they made several short animation films which took part over then in 300 worldwide festivals and earned over 60 awards. Among the awards are: Giffoni Film Festival and New York Int'l Children's Film Festival. Their last film "My Grandfather was a cherry tree" was Oscar nominated and was selected to Long list as best short animation film.
They made several workshops about animation in Russia, Germany, Italy, Slovakia China and UAE. They also work at Peterburg animation studio as directors for kid's series "Babiriki", which have over billion of views in internet. In 2019 they have finished the new film "Listen Papa!". Nowadays they are making a new film "Beast inside" together with Sacrebleu productions (France) and Cine-Litte productions (German).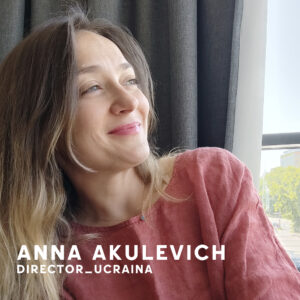 Anna Akulevich è una regista e produttrice. Si è laureata presso l'Università Nazionale di Teatro, Film e Televisione Karpenko-Kary Kyiv. Ha esperienza nei campi della produzione cinematografica, televisiva e pubblicitaria. Ha prodotto per 4 anni una residenza internazionale di sceneggiatura per documentaristi in collaborazione con l'associazione cinematografica DOC Monde (Francia). Anna è stata mentore e curatrice del programma internazionale di cinema per documentaristi "Voci delle Regioni dell'Ucraina 2021".
Anna Akulevich is a director, and producer. She graduated from Karpenko-Kary Kyiv National University of Theatre, Film & Television. She has experience in the fields of film/TV/advertising production. 4 years produce international script residence to the documentarians with the film association DOC Monde (France). Anna was mentor and curator of the international film program for documentary filmmakers "Voices of the Regions of Ukraine 2021".