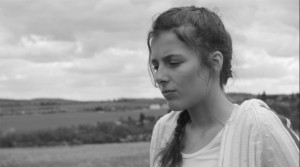 Regista / Director: Li Ran
Durata / Running: 19′
Genere / Genre: Fiction
Anno / Year: 2016
Nazione / Country: Czech Republic, China
Lucie, una comune ragazza di paese che brama la libertà e la vita di città, un giorno se ne va. All'inizio nasce come una vendetta, ma poi diventerà un'avventura che, in fondo, la diverte. Vuole andarsene dal piccolo villaggio, dal misero pub dove lavora e dal suo ottuso fidanzato, ma a poco a poco le cose cominciano ad andare oltre a ciò che la ragazza aveva anticipato. Forse non esiste una libertà assoluta e lei non può davvero andarsene. Forse la vera libertà giunge al prezzo di perdere tutto.
Lucie, a normal village girl who is longing for freedom and city life one day rides out. It begins as a revenge but soon evolves into an adventure she secretly enjoys. She wants to get away from the little village, the lousy pub she works at and her stubborn boyfriend, but things gradually go beyond her anticipation. Maybe there is no absolute freedom and she cannot possibly run away; maybe the real freedom comes at the cost of 'losing it all'.

|BLOCK 4| Sala Cimino – 11 Aug , 16:30 |