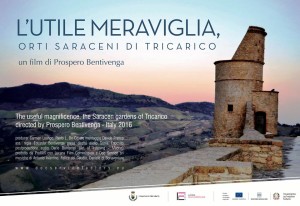 Regista / Director: Prospero Bentivenga
Produzione/ Production: Profilm
Durata / Running: 26'
I dorati orti terrazzati nel paese di Tri carico, come i Sassi di Matera, distanti pochi chilometri, sono monumento della povertà e della cultura contadina. Co struiti durante la dominazione saracena intorno all'anno 1000 e coltivati per secoli, hanno sfamato intere famiglie. "Gli orti pingui sulle pietre" descritti dal poeta Rocco Scotellaro, ora stanno scomparendo.
The golden terraced gardens in the town of Tricarico just like the "Sassi of Matera", situated only a few kilometers awy are a monument to the poverty and the rural culture. Built during the Saracen domination around the year 1000, for centuries they have fed whole families. "The fruitfulls gardens on the stones" described by the poet Rocco Scotellaro, now are disappearing.
|FILM FOCUS| Spazio Close UP – 13 Aug , 18:30 |