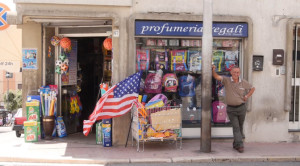 Regista / Director: Vincenzo Lerose
Produzione / Production: Mufilm
Durata / Running: 55'
Agli inizi del 2014 è stato eletto un nuovo sindaco a New York, Bill de Blasio, centonovesimo sindaco di New York, il quarto di origini italiane. Bill de Blasio è nato in America, ma i suoi nonni materni erano originari di Grassano (un paese del materano, nel Sud Italia).
At the beginning of 2014, a new NY Mayor has been elected: he's Bill de Blasio, 109th New York City Mayor, the 4th of Italian-American origins. He was born in America, but his grandparents on his mother's side were originally from Grassano (county of Matera, South of Italy).
|FILM FOCUS| Spazio Close UP – 12 Aug , 18:30 |