It goes to Poland the most prestigious "Elle" of Lucania Film Festival. The Amaro Lucano Award of the XIV edition of the Festival of Allelammie for the best film was assigned to Ziegenort di Tomasz Popakul(Poland). It stays in Italy, however, the award for the Best Actress, awarded to Elena Costanzo, starring in the shortmovie Ammore by Paolo Sassanelli. And Georgian, however, the best photography among the films in competition. The award went to Goga Devdariani in Black Mulberry by Gabriel Razmadze. The "Elle" for the best technique is for German, for the film Sehen wir uns nicht in dieder welf by Daniel Hopfner. Special Mention to the Italian movie L'esecuzione by Enrico Iannaccone.
Awards also for sections Lucania Film Makers, to Oltreluomo by Nicholas Ragone, who was awarded the recognition Fondazione Carical, and for the section Next Future, the award went to the Dutch short Sisters by Marta Abad Blay. Special awards in a substantial ex aequo for feature films Elena by Petra Costa and Ai Wei Wei Never Sorry by Alison Klayman. A special jury assigned the awards, the all-female jury of the Lucania Film Festival, which this year was represented the cinematographic world of Greece: Stephanie Capetanides (Actress), Fenia Cossovitsa (Producer), Joyce Nashawati (Director).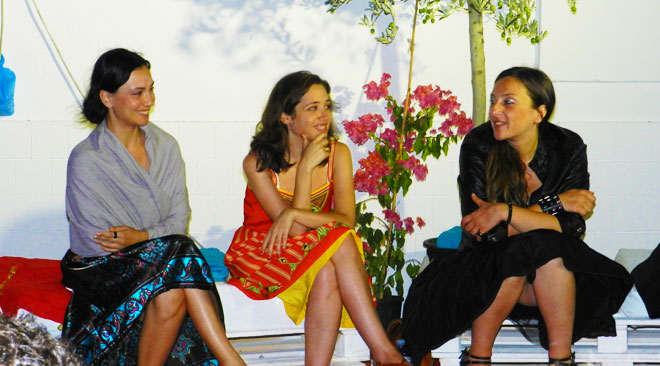 The international jury: from the left, Stephanie Capetanides (Actress), Joyce Nashawati (Director), Fenia Cossovitsa (Producer).
Comments
comments